Sally Ann Ranney
Conscious Ethical Leadership
  –  the #1 Covenent – 
for a
Sustainable & Peaceful World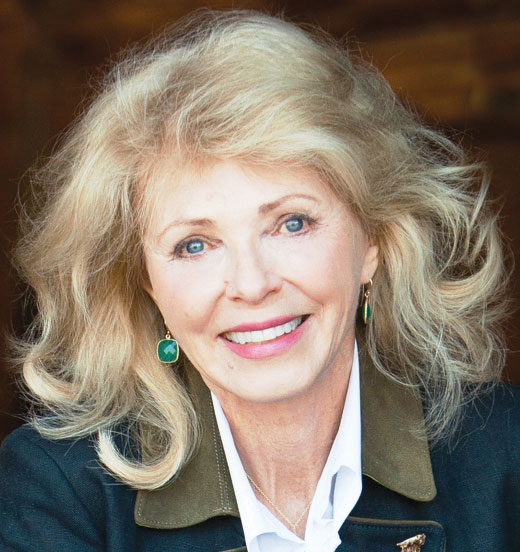 "It always seems
impossible
until it is done."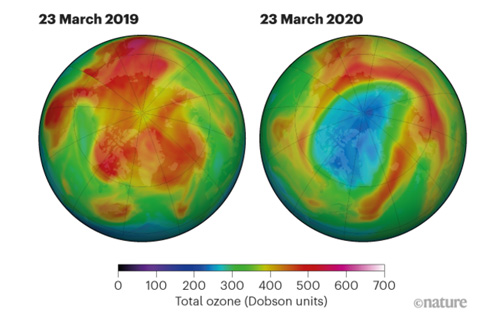 Largest Arctic ozone hole ever recorded opens up over the North Pole.
A new hole has opened up in the ozone layer — but it's not where scientists would expect to find it. The huge hole has been spotted in the Arctic, on the other side of the planet from the infamous hole that forms each year above Antarctica.
Scientists from the European Space Agency said this week that this rare hole is the largest of its kind ever recorded over the planet's northern hemisphere. It covers an area about three times the size of Greenland, according to the journal Nature.
"From my point of view, this is the first time you can speak about a real ozone hole in the Arctic," Martin Dameris, an atmospheric scientist at the German Aerospace Center in Oberpfaffenhofen told Nature.
CBS News | Sophie Lewis | April 11, 2020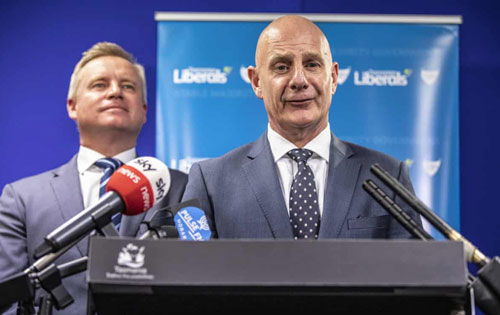 Inside the Liberal state stepping into a low-emissions future
Tasmanian premier Peter Gutwein's conservative government is embracing green hydrogen as it positions itself as a 'renewables powerhouse'.
This week a Liberal government set an ambitious 200% renewable energy target for 2040, a goal that foresees the creation of an extensive clean export industry.
It vowed support to kickstart production of "green" hydrogen – a potentially revolutionary fuel touted as a zero emissions fossil fuel replacement – with a plant promised for local use no later than 2024, and an export industry by 2030. And it said it would install fast-charging equipment for electric vehicles at 12 sites this year.
The government also announced a review of what would need to be done to reach net zero emissions before 2050.
The Liberal administration in question was not the Morrison government in Canberra, where the climate policy debate remains focused on the cost of acting above all else, but the Tasmanian state government in Hobart.  More…
The Guardian | Adam Morton | March 6, 2020

 Eddie Safarik/AAP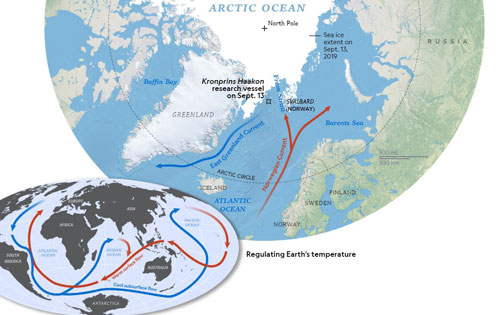 Why is an ocean current critical to world weather losing steam?
Summer sea ice has been shrinking so dramatically here in the Fram Strait, high in the Arctic between Norway and Greenland, that researchers who make this trip annually point out missing patches like memories of departed friends.
"The first time I was here, in 2008, you could walk on the ice," says Norwegian Polar Institute (NPI) oceanographer Paul Dodd, gesturing from the deck of this research icebreaker toward the spot, near the Prime Meridian, where his team is about to take samples for temperature, salinity, dissolved carbon, and other chemical measurements of what is now open water. It's dotted with only a few random, battered-looking ice drifts.
Temperatures are rising and ice is melting all over Earth. But this place is special: The ocean changes that are happening right here could dramatically alter the climate for much of the rest of the planet.
National Geographic | Cheryl Katz |December 2, 2019
Ryan Morris, NGM Staff | Sources: NASA
National Snow & Ice Data Center
Learn More About Sally Ranney
Climate Change Solution Strategist
Wildlife & Biodiversity Activist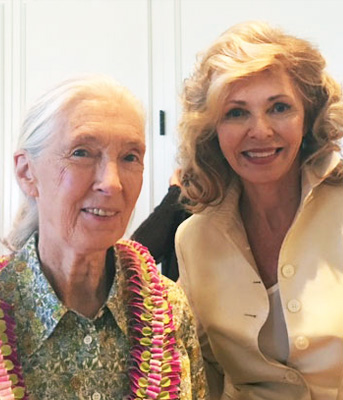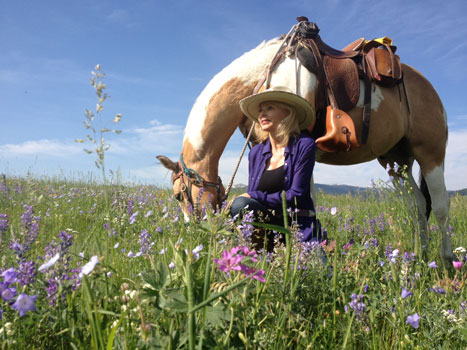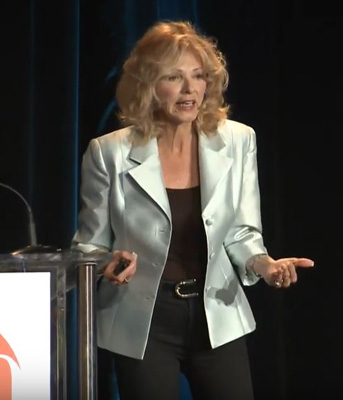 "The Arctic is to the Earth body as the soft spot on the head is to a baby.
Both are highly vulnerable to injury and must be vigorously protected."